2005 NBVME Award
Dr. Susan McDonough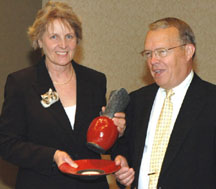 The National Board of Veterinary Medical Examiners (NBVME) has presented the seventh NBVME Award to Dr. Susan McDonough of Arnold, Maryland. The award was given to Dr. McDonough by NBVME Chair Dr. James Dalley during the NBVME's July 18 meeting in Minneapolis.
For nearly 20 years, Dr. McDonough played a key role in the national licensing examination program. Through her position as member and co-chair of the Consultant Advisory Board of the Professional Examination Service, she had oversight responsiblity for the development of the National Board Examination (NBE) and Clinical Competency Test (CCT). She was the major force behind the maturation of the case-based CCT, and was responsible for organizing and leading many item writing and examination review sessions. All who have worked with Dr. McDonough admire her intellect, enthusiasm, and dedication.
In presenting the award, Dr. Dalley recalled the first time he worked with Dr. McDonough, as a participant at an examination review meeting in New York City. "Dr. McDonough was clearly very concerned about ensuring the quality of the examinations, and she emphasized that to all those in attendance at the meeting."
A 1968 graduate of the veterinary school at the University of Pennsylvania, Dr. McDonough began her veterinary career as a postdoctoral fellow at the Wistar Institute in Philadelphia. After working for two years at Merck in the area of leukemia virus research, she founded the Cat Hospital of Philadelphia in 1972, and worked there until 1997.
Today, Dr. McDonough works part-time as a veterinarian at the Ann Arundel County Animal Control. In 2003, she earned an MA degree in Liberal Arts from St. John's College in Annapolis.
Dr. McDonough served as a member of the Pennsylvania Board of Veterinary Medicine from 1980-1990, and chaired the board for five years. She has extensive experience as a consultant for major corporations, and as a speaker on feline medicine and surgery.
The Award was a raku pottery plate and pitcher made by Brad Bachmeier of Fargo, North Dakota.
The NBVME Award was established in 1999 to recognize individuals who have made significant personal contributions to the national licensing examination program. Previous recipients include:
Dr. Duane T. (Whitey) Albrecht, 1999
Dr. Samuel E. Strahm, 2000
Dr. Richard S. Hawe, 2001
Dr. Billy E. Hooper, 2002
Dr. Melvin Swenson, 2003
Dr. George Wadley, 2004